---
Boards & More Statement to all MNAs
Posted On: 04/09/2003 09:50:39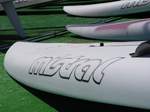 Follo

w

ing a telephone call

,

a

day before yesterday from Paul Henderson, President of the ISAF,

I would like to take this opportunity to confirm three points, so that everyone has a clear overview of Boards & More position on the Mistral One Design for 2008, o

n

the development of windsurfing for 2008 and about
our continuing commitment to ISAF, its MNAs and
the Olympic athletes involved:
1. Where does B&M stand on the Mistral One Design for 2008?:
I
n my reply to the IWA White Paper dated July 30th 2002 which was copied to
Arve Sundheim, General Secretary of,
(a full version is attached for your information), I stated in point 2.a):
"

It is the opinion of Boards & More GmbH that the current Olympic board is the most suitable existing equipment for the 2008

Olympics in China. Boards & More stands fully behind the continued production of the Mistral One Design. We shall continue to produce the board as long as there are customers willing to buy it.

"



Our policy and opinion remains the same today
: Boards & More - and its brands -
remain
fully behind the One Design for the Olympics 2008. We shall be presenting
a new tuned

/re-worked

version of the new Mistral One Design
at the
first ISAF Evaluation Trial
in Cadiz in two weeks time.
2. What is B&M's view
of
the future
?
:
W
e accept that this
trial
is the first step in
the
evaluation of a variety of ideas for windsurfing
equipment for 2008
and we will stand 100% behind the ISAF Evaluation Committee's
recommendation to council. What
ever
the outcome,
we
believe
that we have a role to play
and wish to be involved
, as point 2.b) third paragraph of the above mentioned letter states:
"Boards & More has gained over more than a decade's extensive experience as the supplier of the current Olympic equipment and has a unique fund of in-house production know-how built up over more than 20 years. We are happy to make hulls in our production facility for other brands."

3. What about Boards & More's commitment?
In a Press Release September 1999 the
then
MD of Mistral Sports GmbH stated that "Mistral will go on building the One Design as long as there is a demand for it" and Boards & More GmbH which, took over the brand Mistral, has
stuck to
this
policy.
B&M has
worked hard to rectify any problems

with the One Design

identified by ISAF technical staff a
nd have been 100% transparent with, and supportive of, ISAF in this.
Further, we recently supplied over 40 new One Design boards and rigs free of charge + a technician to the recent successful ISAF Youth Worlds on Madeira.
Not only was the equipment
perfectly
behaved
there but we also understand that 2003 Tuned Edition Boards presented no problems at the recent Pre-Olympic regatta in Athens. This sort of support and commitment to ISAF has been unbroken since 1989. It will continue in the same open and transparent way.
I
know
that
this letter gives
a clear account of Boards & More's position.
However, if
you have any queries or comments, then please contact me by email or telephone, or speak to me at the ISAF Annual Conference in Barcelona.
Best regards,
Boris Zwetkoff

Boards & More
Business Unit Manager Windsurf