---
ISAF Women's Rankings - Movers & Shakers
Posted On: 12/09/2003 10:26:43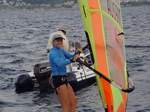 Because of the formula with which the ISAF World Sailing Rankings are worked out, some sailors can find that all of a sudden their best results, which have often resulted in meteoric rises in ranking position, drop out of inclusion. This can be because of the two-year rolling timescale meaning that an athlete may be counting a minimal number of events, or one event result can be superseded by another result. Take Faustine MERRET (FRA) as an example. An oft featured top five ranking sailor, and with a third place finish in last year's Worlds still counting, she has dropped from fourth to twentieth. Amelie LUX is almost an even bigger surprise, a seventh place at last year's Worlds, she has resided in second place for a period of time and has now, in this latest ranking release, dropped out of the top twenty and lies in 23 place overall.
Both will be featuring at the World Championships in Cadiz, and will be definite contenders, no doubt with an opportunity to boost her ranking position over the coming two weeks.
Lise VIDAL (FRA) continues to lead from another British Windsurfer, Bryony SHAW, who has been steadily climbing the rankings whilst fellow team mate Natasha STURGES, has dropped from seventh to 13.
Allison SHREEVE (AUS) represents the highest placed sailor from the southern hemisphere and rises seven places in the rankings up to seventh overall. There are now eight nations represented in the top ten in the World, with only France and Poland being represented twice.
ISAF World Sailing Rankings
www.sailing.org/rankings
ISAF World Championship Website
www.cadizworlds2003.com/