---
Worlds measurement starts today
Posted On: 12/09/2003 10:55:22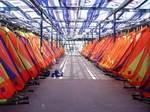 With 122 men and 71 women to scrutineer, the measurement team will be busy over the next three days.
Weather wise we are expecting the hot easterly and south easterly breezes that blow easterly from the Sahara Desert over the next few days. Called the Levante, it is funnelled by the Straits of Gibraltar and can reach upwards of 25 knots, negating the presence of any sea breeze.
If the Levante is weaker than predicted, then the wind can swing to the South or South West, the further north into the bay you go, whilst still remaining an easterly gradient further offshore.
At the moment, the sun is up, the temperature is rising and there is a light easterly blowing, the remnants of the land breeze, and we have yet to see the presence of the Levante.
The Full event schedule, full results and photographs, as well as a host of other information is available on the event website at the address below.
Event Website
http://www.cadizworlds2003.com/