---
IMCO Worlds Race Day 2 - morning
Posted On: 16/09/2003 10:38:17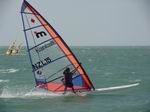 The conditions have abated since last night, and a slightly more user
friendly set of conditions has appeared. Broken boards and ripped sails from
the treacherous conditions yesterday were replaced or repaired, ready for
the the new days racing. A steady 12 to 15 knots is forcast with sunny
conditions as per normal. A view from the boat park sees people pulling out
their equipment, placing it near the water. Others are lying on board bags
stretching. Conversations of all sorts, ranging from team meetings,to idle
chit chat, or just personal time mentally preparing for the day. Everybody
is in their own special way ramping up for the days racing. Team groups,
random groups of training partners or just freinds from all ends of the
globe.

For more information please check www.cadizworlds2003.com