---
Mistral Worlds Day 3 Afternoon
Posted On: 17/09/2003 17:08:56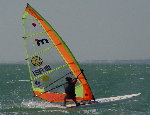 Pont (POL) once again dominated taking two firsts. Mind you John Paul Tobin (NZL) pushed him hard, leading Pont for most of race one, But at the finish line it was Pont "victorious". Nikos Kaklamanakis (GRE) was blisteringly fast and fended off challenges from both Alex Barenjon(GER), and Julien Bontemps(FRA) to win his group,
The women went out at 1440hrs and were greetd by a solid 20 knots of breeze. Lee Korsitz (ISR) again dominated the first race finishing 1st with Allison Shreeve (AUS) 2nd and Olga Maslivets (UKR) 3rd.
If anything the wind picked up a little for women´s race 2 of the day, but surprises were in hand. Lee Korsitz had a shocker slipping to a 32nd place! Leaving Allison Shreeve with a comfortable win. 2nd was the dreadlock Sigi Rondelez (BEL) who after a drop is doing a great job in 5th place overall.Third was Jeanne Mailhos, and fourth seventeen year old Zofia Klepacka(POL8), also recovering from a 32nd place earlier in the first race.