---
IMCO Worlds Race Day 6 - morning
Posted On: 20/09/2003 09:28:52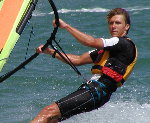 Pont and Allison give a press conference, 16:30 pm yesterday the press
were unleashed upon both Pont and Allison, who were quizzed on there
dominance of racing in the last few days. Pont has been sailing Mistral One
Design for the past 9 years, Allison 6 years.
Pont who stands 6 ft tall and weighs 76 kilos, described his career as a
success. Having competed on the Junior One Design circuit, made the
transition to the senior ranks after attaining a 2 placing in the youth
worlds in ..........
Allison is a relative new commer to the european racing, and has coped with
the change very well. With a 2nd in Spa regatta last year and consistent top
ten placings. Pont quite a shy person, struggled a little with his english.
but battled on through smiles and smart short concise answers.
Both were very quick to thank there friends and family, and letting
everybody know that through hard work and diligence the will be on top at
the end of the event.