---
Paul Henderson speaks on Olympic Measurement
Posted On: 18/02/2004 18:17:07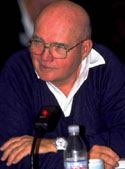 ISAF will perform very intense measurement at the 2004 Athens Olympics. ISAF will make rulings and interpretations of class rules.

These may be in conflict with what has been the custom at Class Championships and in most classes will be more comprehensive than procedures at World Championships. ISAF intends to ensure the One-Design concepts of the Olympic classes.
The ISAF Olympic Measurement Committee shall have the sole and final responsibility of interpreting the class rules for the Olympic Regatta.
It is ISAF's intention to inform all Olympic sailors of what they can expect at the Olympic Regatta and not spring something unknown when they arrive in Athens. To this end ISAF will publish the Measurement Regulations on the ISAF website and will publish all class rule interpretations. ISAF will be involved in the measurement at several of the final Olympic Qualifiers, so as to ensure the sailors understand the Measurement Procedures which will be used at the 2004 Olympic Regatta.
These 2004 Olympic Regatta Measurement Regulations will be published on the ISAF Website and in Making Waves. Sailors registered on ISAF Sailor may sign up to receive notification of the publication of the Measurement Regulations via ISAF Sailor Email Services – www.sailing.org/isafsailor
ISAF Olympic website - www.sailing.org/olympics