---
Garda entries looking good!
Posted On: 02/03/2004 11:58:11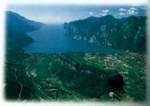 Over 300 boats have already registered for the ISAF Grade 2, Expert Olympic Garda 2004, event organised by the Federazione Italiana Vela in conjunction with the Fraglia Vela Riva and the Fraglia Vela Malcesine.
More than 40 nations will be represented in this Italian event, part of the Eurolymp circuit, which will take place on the waters of Lake Garda from 13-20 March, 2004.
Ten Olympic classes will be competing in this event: Men's and Women's Mistral, Laser, Europe, Finn, 49er, Men's and Women's 470, Yngling and Star.
The event will run with the following schedule:
- March 13-14-15: registration and measurement.
- March 15, 7.00 pm: opening ceremony at Fraglia Vela Riva.
- March 16, 12.00 pm: first warning signal.
- March 17-18-19: races.
- March 20: races followed by prizegiving and closing ceremonies at Fraglia Vela Riva.
Full details of the event, including entry lists, are available on the event website at the address below.

http://www.fragliavelariva.com/public_New/SitoWeb/homepage1.asp?RegataID=35&Logo=