---
Sensini Wins on Day Two - Olympic Garda
Posted On: 18/03/2004 15:32:05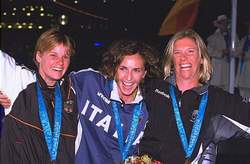 Warm sunny conditions, but light air, greeted the sailors on day two day. The so-called "Ora", the typical southerly breeze of Lake Garda, didn't reach its normal strength and by 3.30 pm (local time) it had already started to die, exactly like Tuesday.
In the afternoon the Race Committee was able to complete only one race, while during the morning the northerly breeze "Peler" enabled the competitors to sail some good races.
In the Women's Mistral, Alessandra Sensini (ITA), gold medallist at the 2000 Olympic Games in Sydney, is leading with two wins and one second, followed by Flavia TARTAGLINI (ITA) with a fourth a first and a third, and Romy KINZL from Germany with a second and two fourths. The Men's Mistral have also completed three races and Julien SAVINA (FRA) is leading head of Toni WILHELM (GER) and Moritz MARTIN (GER).
Complete results are available on the event website via the link below.

Event Website:http://www.fragliavelariva.com/
Related Articles: www.sailing.org/Article_Content.asp?ArticleID=6644