---
Mistral Euopeans 2004 - PONT takes title
Posted On: 13/06/2004 09:24:07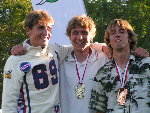 After a thrilling and difficult day of racing with once again offshore, shifty and gusty breeze up to 20 knots it was the usual suspect Pont (Pol-126) who celebrated a nice come back in the last and final race of the Europeans at Sopot, Poland.
All three medal challengers (Pont, Julien Bontemps, Nico Huguet) sailed a very poor first race of the day. In the final and last race Maxim Oberemko managed to sneak into third position overall just one point ahead of Nico Huguet who dropped into fourth position.
The battle for Gold was deceided as Pont managed a comeback in the last race while Julien Bontemps eleminated himself with high score finish - so Julien took second after Local Matador Pont who was all smiles at the ceremony.
results on the event website - to be reached over ISAF