---
Windsurfing History is Made!
Posted On: 14/08/2004 14:25:26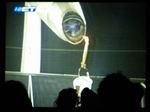 As the Olympic Games returned to its spiritual home last night in a breathtaking opening ceremony that brought the myths of Ancient Greece to life through the magic of 21st century technology. Windsurfing history was made.

Nikos KAKLAMANAKIS (GRE), 1996 Olympic Gold Medallist was the torchbearer who lit the cauldron at the Olympic stadium during the opening ceremony of the 28th Olympic Games. This is probably the first time that such an honour has been bestowed upon any sailor let alone a windsurfer so it was a truly unique occasion.

Nikos said "It is an unbelievable feeling that comes once in a lifetime"

Nikos who turns 36 in six days time and is likely to end his illustrious career in the blue waters of the Sarionic Gulf has also featured in Sky Sports "Road to Athens" series covering the Olympic preparation of athletes from around the world. Again, Nikos was the only sailor to be featured.

Windsurf racing begins tomorrow!
More: http://www.sailing.org/olympics2004/results/news2632.html
Image: Getty Images