---
Pre-Olympics- Day 3 - Fair play to Nikos
Posted On: 24/08/2003 13:30:51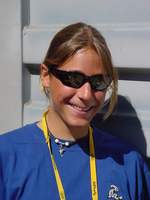 Fair play at its best. The Greek Gold Olympic medallist at Atlanta, Nikos Kaklamanakis, proved today that top athletes are top in everything and will sacrifice a win and distinction in their sport to go to the assistance of a fellow human being and a fellow athlete. The 'son of the wind', as he is nicknamed by Sports Editors, got off to an impressive start for today's first sailing race (3rd overall) in the Mistral class, sailing first before anyone else round the last marker buoy, before heading straight for the finishing line. But he was too quick and caught up with the last of the women sailors in the Women's Mistral race that was run just before the Men's and crashed into the sailboard of the Swiss Anja Kaeser causing her to fall in the sea with an injured shoulder blade. The European Champion could quite easily have continued his course towards victory, but seeing that the damsel was in distress, he fell into the sea to go to her assistance. He stayed by her side until the emergency help craft arrived. As a result he did not finish the race and was penalised with 27 points. Kaklamanakis won the fourth race but if he had chosen not to help Kaeser, he would now be in first place in the general ranking with only 15 penalty points and not 9th with 41 penalty points.
Overall the weather conditions at the Olympic Sailing Centre at Aghios Kosmas were ideal today for sailing and those in charge of the races took the opportunity to make up for lost time in the classes that remained behind schedule. So there were three Women's Mistral races instead of two, as only one course was run in the premier. Two races were also run in the 49er class as yesterday only one took place instead of three.
In the Men's Mistral, the champion was of course Nikos Kaklamanakis who sacrificed his win in the third course but secured first placing in the fourth. For the history books, the Chinese Zhou took advantage of the chivalry of the Greek sailor finishing first in the third race. The Cypriot Andrea Kariolou also put in a good performance finishing 3rd, 8th, 21st and 7th with a general ranking of 8th.